CLOCKS
American / French/ English / German / Other
CUCKOO CLOCKS / BRONZE CLOCKS / NOVELTY CLOCKS / BRACKET CLOCKS
Seth Thomas / Ansonia / Gilbert
Simon Willard / Other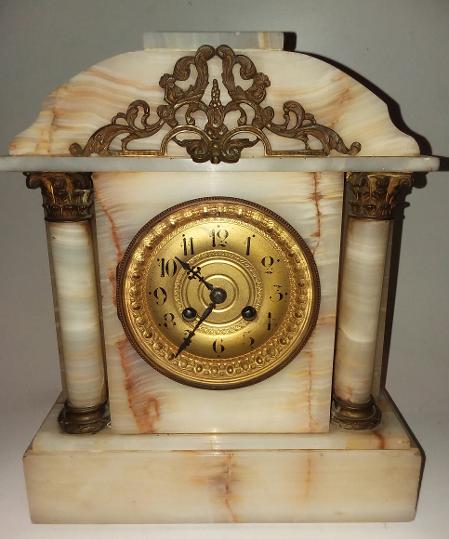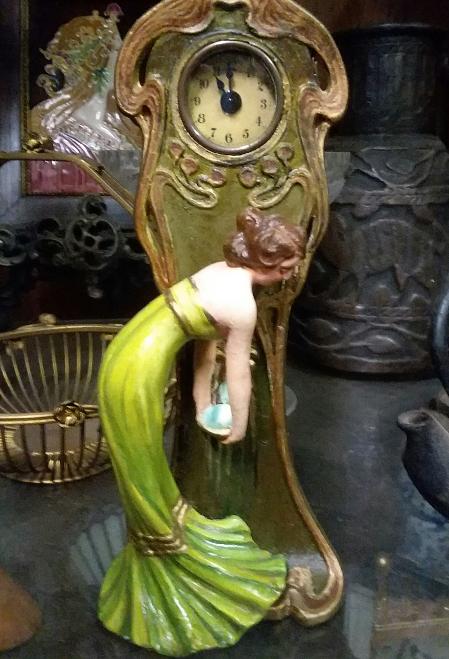 RARE NOVELTY ART NOUVEAU 30 HR. PAINTED METAL CLOCK 8.5 IN. TALL.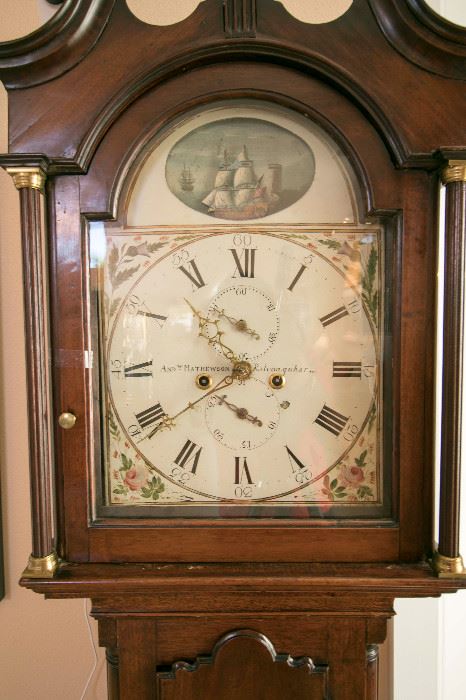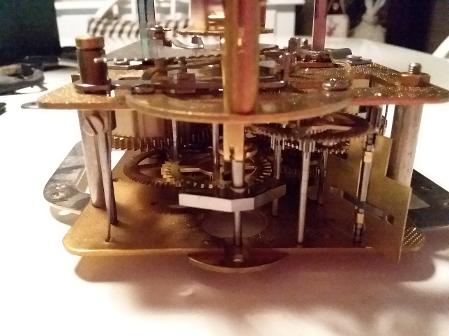 Brass clock movement 8 day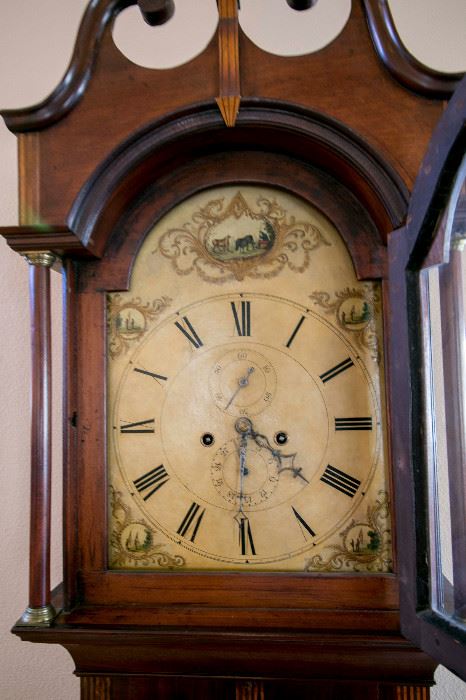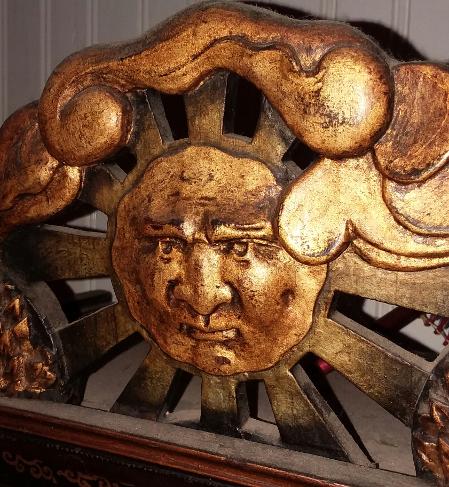 PEDIMENT ON GRANDMOTHER CLOCK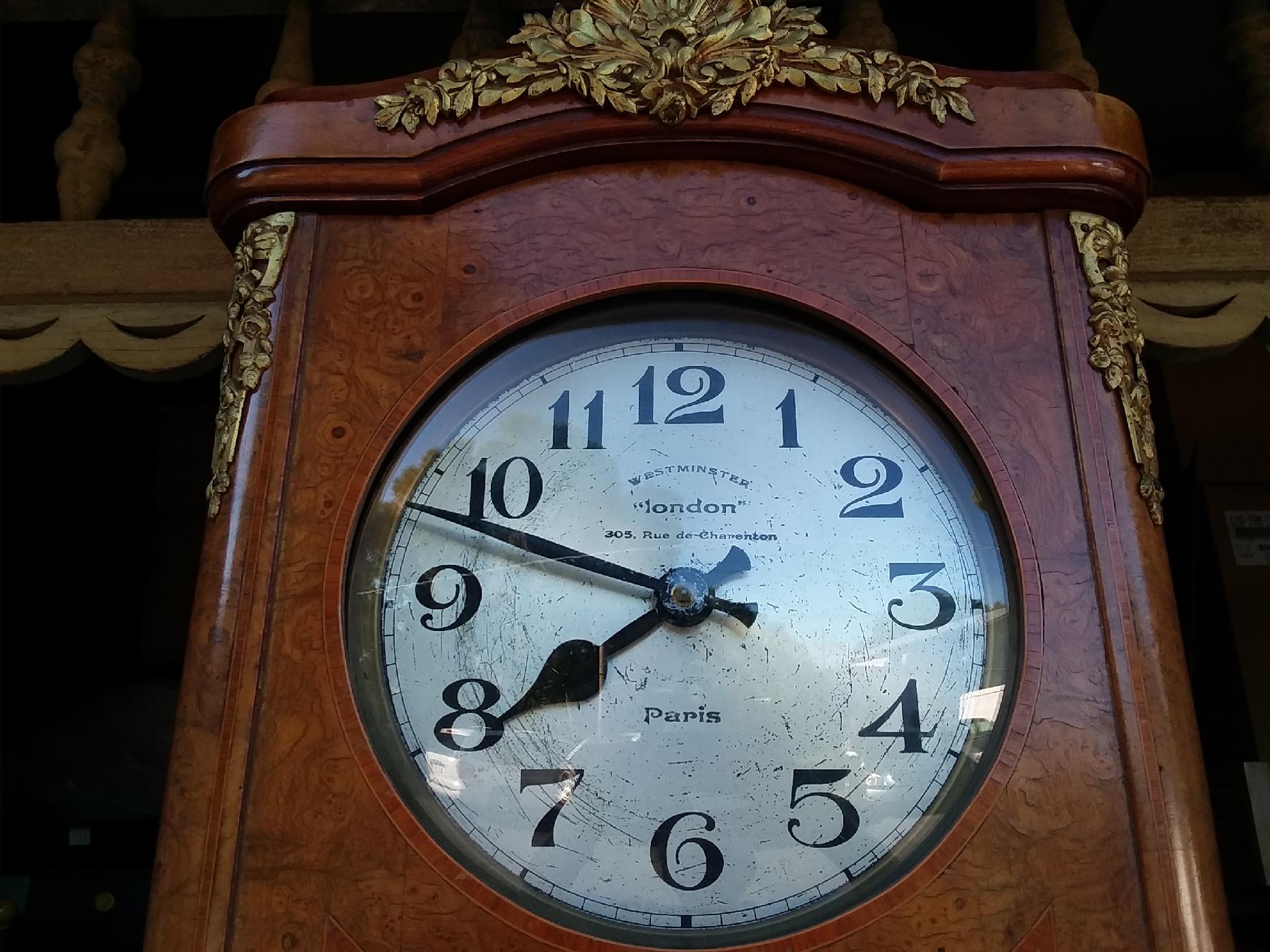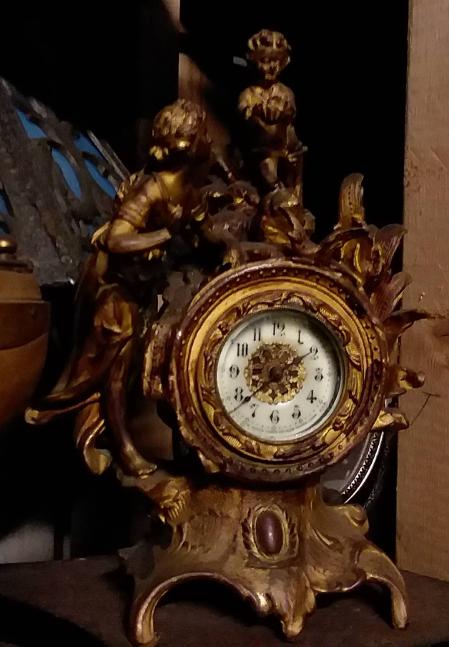 A GILDED BRONZE ANSONIA FIGURAL CLOCK

History of Clocks
OVER THE YEARS THE CLOCKS HAVE CHANGED DRAMATICALLY. THEY STARTED OUT AS SIMPLE AS SUNDIALS OR THE SUNS SHADOW CAST FROM AN ANIMATE FIXED OBJECT. THEY PROGRESSED TO WATER CLOCKS, WHICH A BOWL CONTAINING A SMALL HOLE AT THE BOTTOM WOULD FILL SLOWLY WHEN SETTING IN A LARGER BOWL OF WATER , THIS WOULD CALCULATE A PRECISE TIME TO FILL, THEN THE PROCESS WOULD BEGIN AGAIN. MECHANICAL CLOCKS WITH WOOD GEARS CAME SHORTLY AFTER, THEN METAL GEARS. THEY ALL HAD MANY THINGS IN MIND FOR THEIR EVOLUTION, AND ACCEPTANCE TO THEIR MAKING. ACCURACY BEING THE MOST IMPORTANT. LOOKS BECAME AN ESSENTIAL PRIORITY AS WELL. SIZE WAS IMPORTANT, AS MANY CLOCKS MUST BE TRANSPORTED. CARRIAGE, TRAIN, OR BOAT. EVENTUALLY THE NEED FOR CLOCKS THAT COULD WORK IN TRAVEL. MOST PRIMITIVE VERSIONS WOULD NOT PERFORM WELL UNDER THOSE CONDITIONS. THE DEMAND FOR A CLOCK TO WORK UNDER IRREGULAR MOVEMENT WAS NEEDED. VERGE ESCAPEMENT, WAS THE ANSWER TO CORRECTING THIS PROBLEM. AGE LONG USE OF THE ANCHOR MOVEMENT WAS STILL VERY RELIABLE IN MOST SHELF CLOCKS AND CONTINUED TO THE TWENTIETH CENTURY. MANY RETAINED THE ANCHOR WITH WEIGHT OR SPRING MOVEMENTS THOUGH, BECAUSE THEY WERE EASIER TO PRODUCE AND THEY PERFECTED THE QUALITY AND ACCURACY OVER THE YEARS. THEY ARE STILL BEING PRODUCED TODAY AS REPRODUCTIONS OF PAST DESIGNS. THEY ARE MOSTLY CHEAP IMITATIONS WITH POOR QUALITY MOVEMENTS. THE ULTIMATE LAZY MANS CLOCK MOVEMENT WAS FINALLY INVENTED WHERE IT INCLUDED A BATTERY THAT WOULD LAST UP TO A YEAR. ONE CAN PONDER THE PROS AND CONS OF ANY CLOCKS THAT EXIST ON THE MARKET, BUT THE HISTORY OF ACTUALLY LOOKING AT CLOCKS FOR THEIR DETAIL, AND WORKMANSHIP MAKES THEM SOMETHING COLLECTORS VALUE. SOME RARE EXAMPLES ARE GETTING PRICES WELL OVER A MILLION DOLLARS. TO THIS DAY YOU CAN STILL FIND ANTIQUE VINTAGE CLOCKS, FOR NEARLY AS MUCH AS A CHEAP IMPORT.
OVER THE YEARS, TIME PIECES HAVE CHANGED THE WAY WE MAKE USE OF OUR TIME.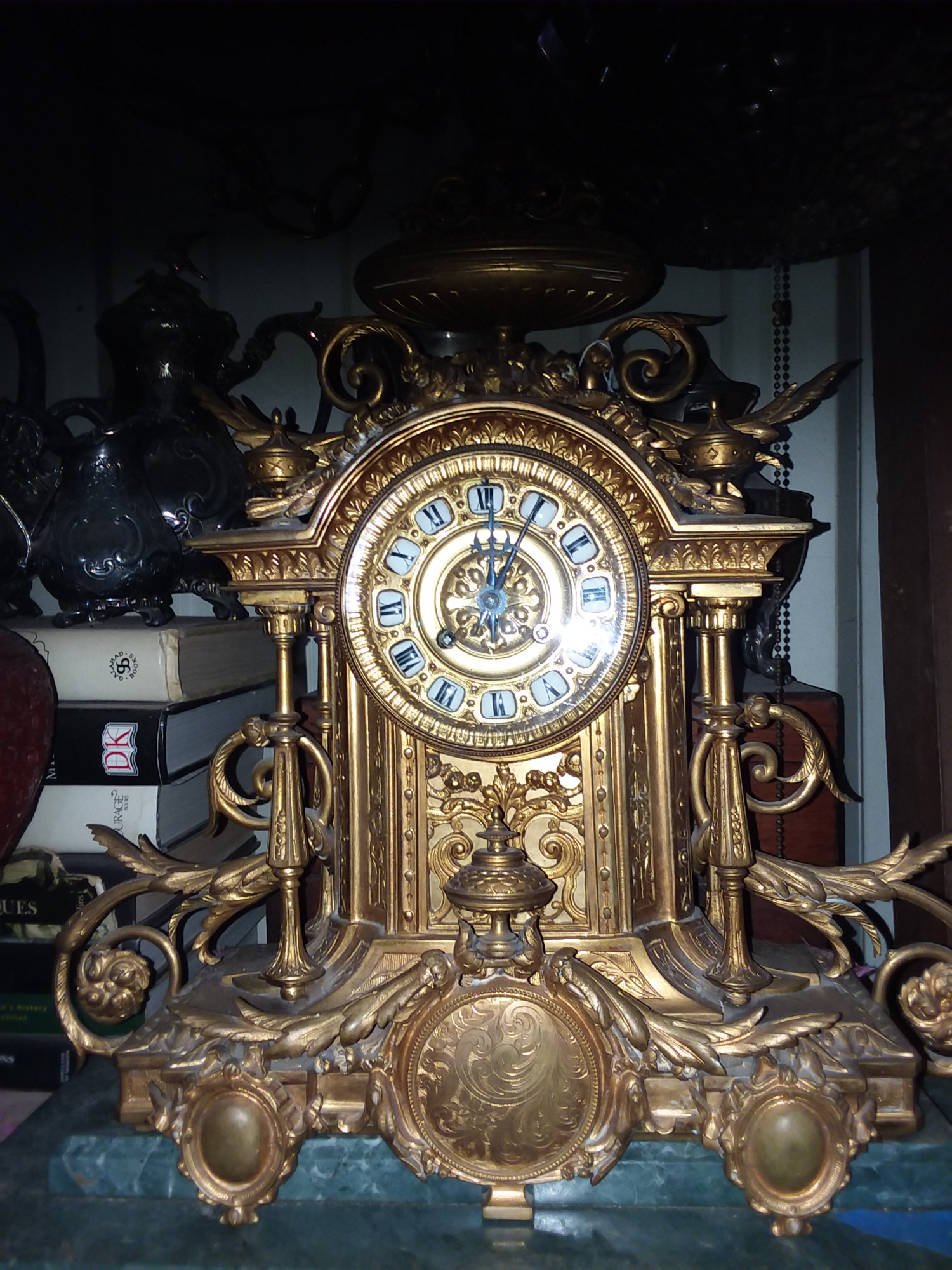 19th CENTURY GILDED BRONZE TIFFANY& COMPANY CLOCK
The clock industry has seen many ups, and down turns in market value, however one thing is certain in the purchase of a fine or primitive timepiece, there are fewer and fewer examples, as many have been simply discarded due to their no longer functioning, or loss from damage. As the markets continue to rise, the value of antiques will also continue to rise. Add to that, the fact that some pieces that were not as valuable at one time, are now becoming more desirable to collectors. Fine quality pieces in excellent condition will always fetch a higher price. There is always going to be that sale, weather it is an estate sale, yard sale, or auction, bringing forth some diamond in the rough from a family heirloom that speaks to you. It may be a painted box, or piece of jewelry, or even a fancy piece of furniture. Knowing what to look for is just part of the challenge, being in the right place at just the right time and acting (making the purchase)is key to success. Waiting five seconds, and watching another interested buyer snatch it up before you, is painful. This doesn't mean you should buy everything you see. Know what your limits are!. Know if the piece is for you, or something you wish to resell for profit. Have a good idea what you need to get for the item, or have an experienced collector (someone you can trust!!!) help give their opinion. The internet is another good source to get information. The treasures are out there and if you are not there, your chances are 0. Anyway, HAPPY HUNTING! AND GOOD LUCK!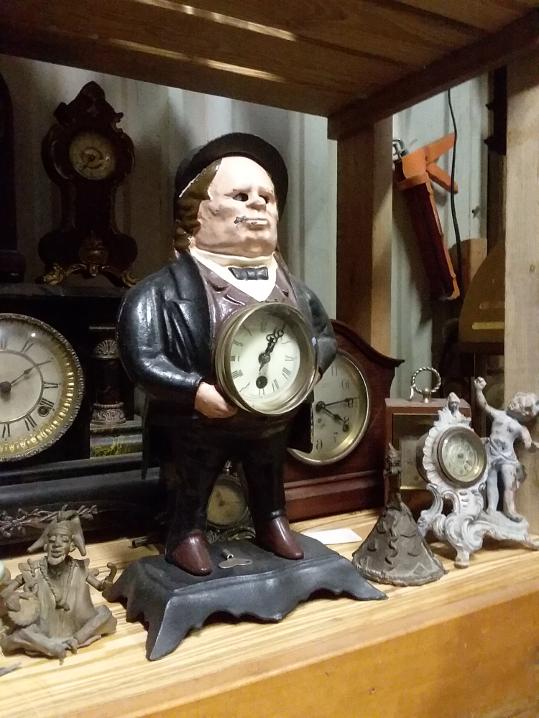 A BRADLEY & HUBBARD BLINKING EYE NOVELTY CLOCK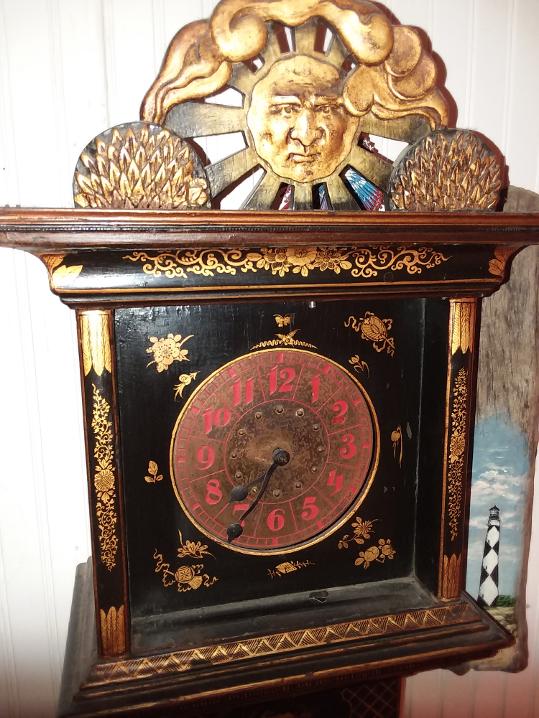 GRANDMOTHER CLOCK WITH PAINTED FACE DIAL AND FORGEDHANDS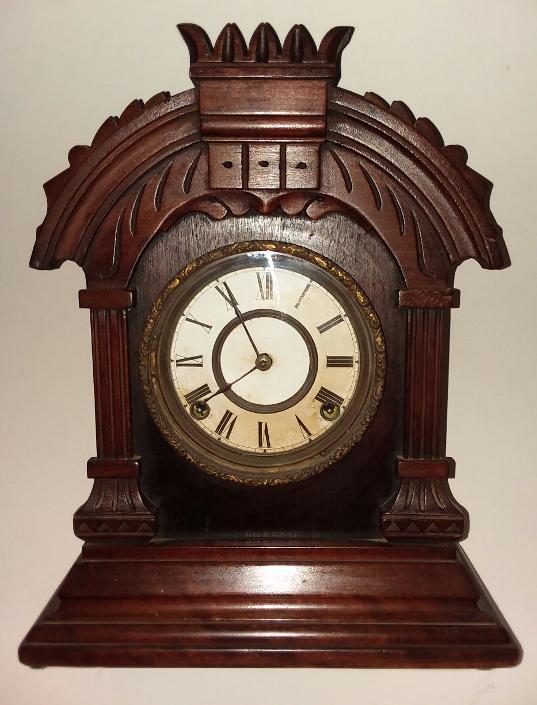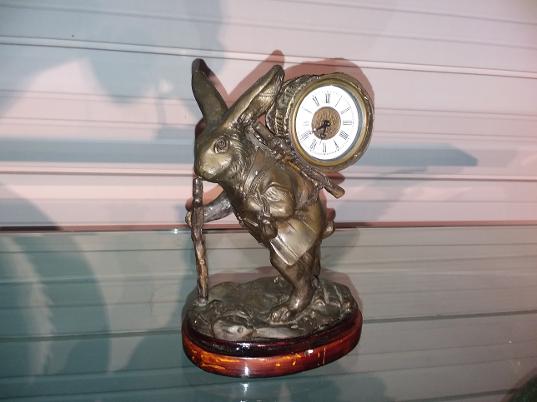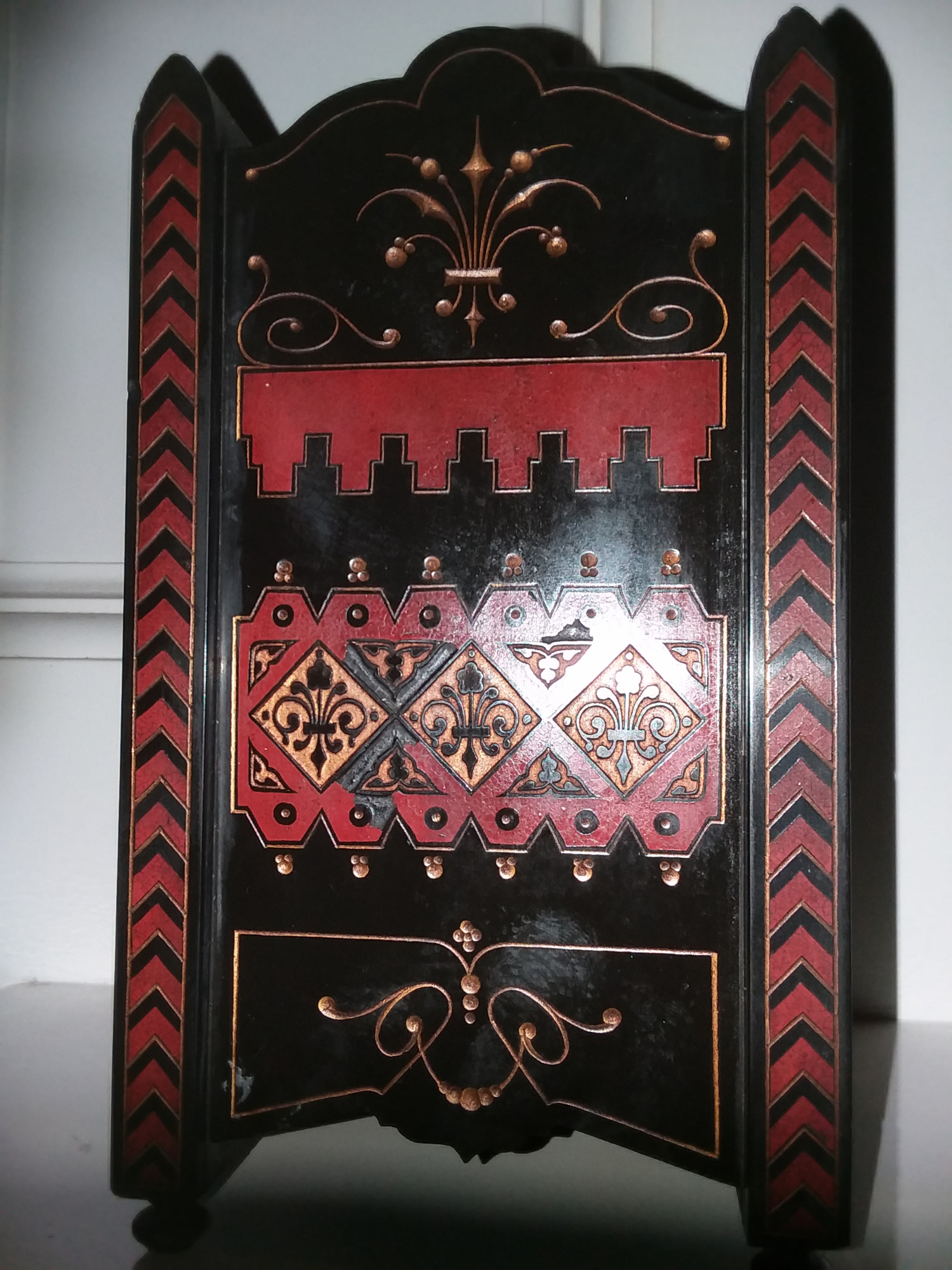 A TIFFANY AND COMPANY CLOCK GARNITURE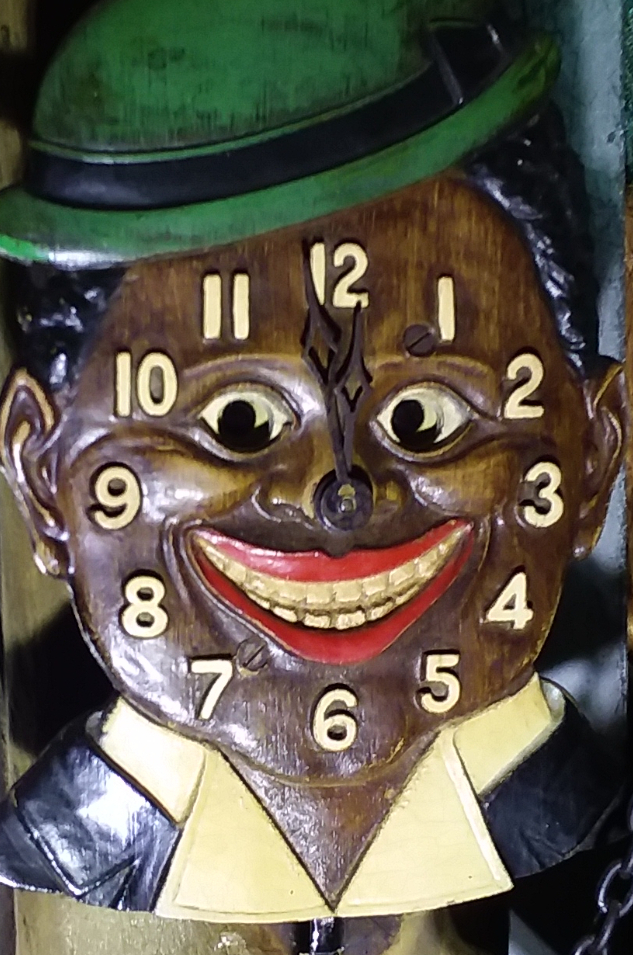 SMALL LUX BLINKING EYE CLOCK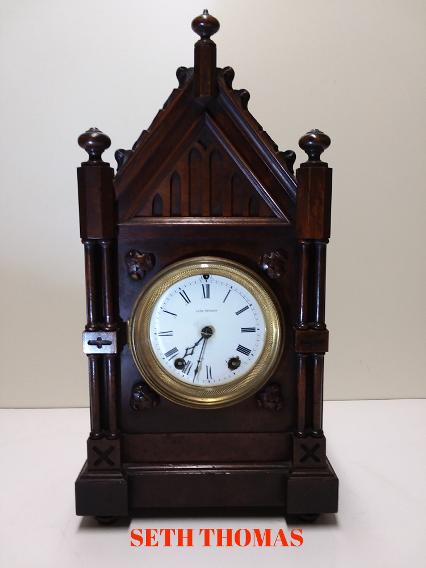 A RARE SETH THOMAS GOTHIC STEEPLE CLOCK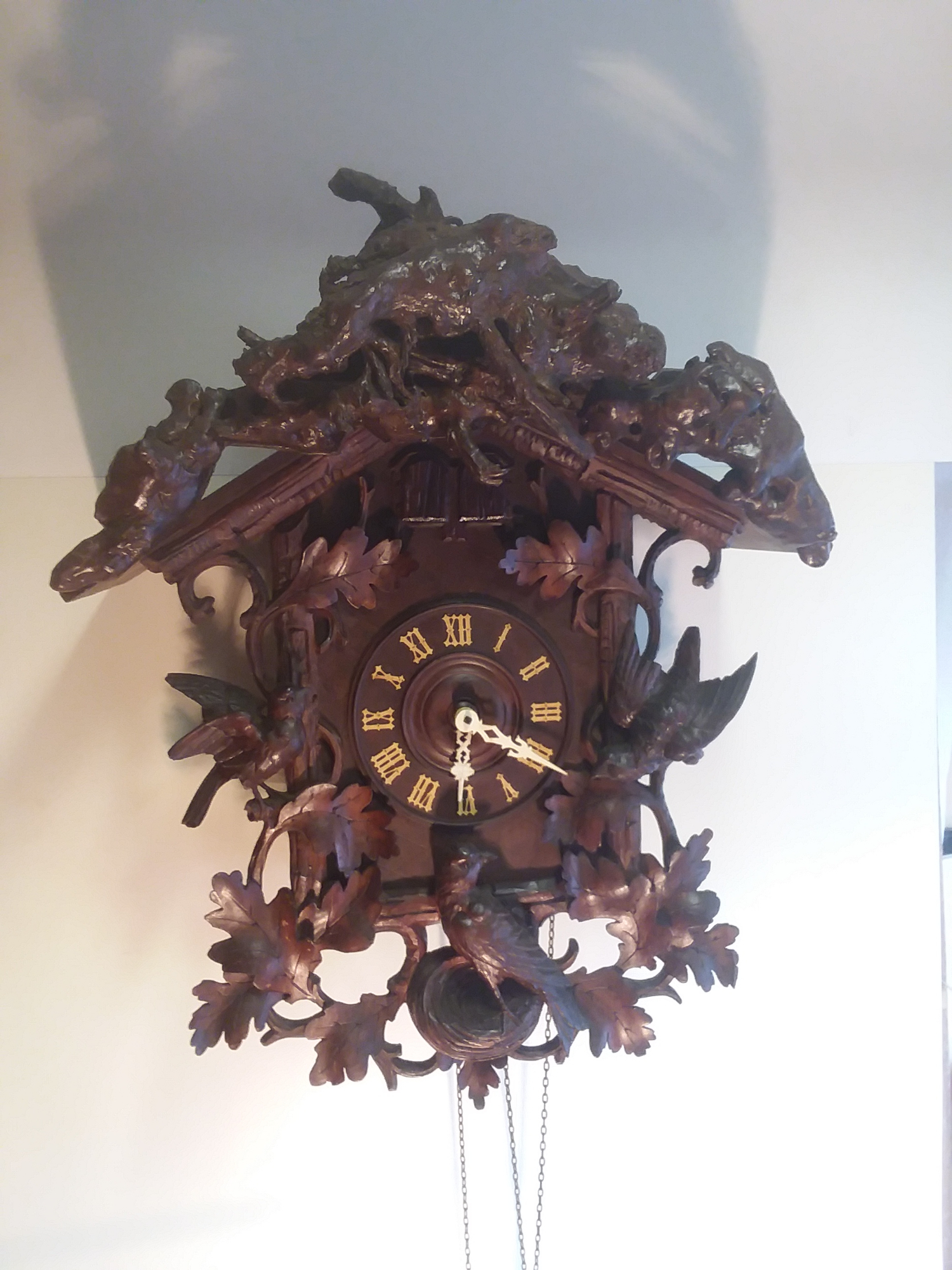 A BLACK FOREST CUCKOO CLOCK FROM THE LATE 1800'S
BLACK FOREST AUTOMATION CLOCK (GERMAN C 1840 )
THIS RARE AUTOMATION CLOCK WAS MADE IN THE EARLY PART OF THE 1800'S. IT IS AN IMPORTANT EXAMPLE, AND DISPLAYS A PORTRAYAL OF HOW THIS WORK WAS PERFORMED IN THE TIME THIS CLOCK WAS CREATED. THE PRIMITIVE METHODS USED IN SHOE MAKING IS EXECUTED WITH GREAT DETAIL THROUGHOUT THIS CLOCK. I HAVE SEEN ONE OTHER SIMILAR CLOCK WHICH HAS A SINGLE WOOD FIGURE CALLED THE KNIFE GRINDER, WITH THE MAN WORKING ON A TURNING WHEEL. HOWEVER THE TWO COBBLERS ARE A MORE DESIRABLE SUBJECT MATTER AND BECAUSE THERE ARE TWO WOOD CARVED FIGURES, PUTS THIS CLOCK AT THE TOP OF ANY SERIOUS COLLECTORS LIST.
THE MOTION OF THE CLOCK IS AS FOLLOWS:
AS THE CLOCK STRIKES THE HOUR, BOTH COBBLERS BEGIN THEIR WORK, ONE AT LEFT HAMMERS ON THE SOLE OF A SHOE, WITH PERFECT TIMING THE SOUND OF THE HAMMER MAKING CONTACT WITH THE STONE CREATES A REALISTIC SOUND YOU WOULD HAVE TO HEAR TO BELIEVE. THE OTHER COBBLER AT RIGHT POLISHES ON THE LEATHER OF A SHOE HE HAS PLACED IN HIS LAP. BOTH WORK FOR ABOUT 13 SECONDS. THEN THE BOTH LOOK UP AND START THEIR CONVERSATION. THEIR MOUTHS BOTH OPEN AND CLOSE ADDING TO THE DIFFICULTY OF THE CRAFTSMANSHIP IN BUILDING THIS FINE WORKING, EXAMPLE OF A PRIMITIVE CLOCK FROM THE EARLY 1800'S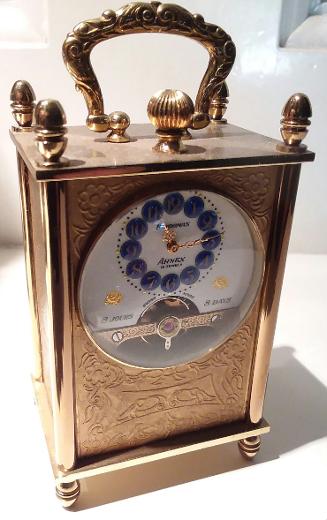 MINI CARRIAGE 8 DAY CLOCK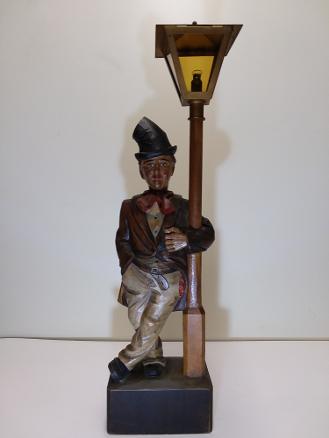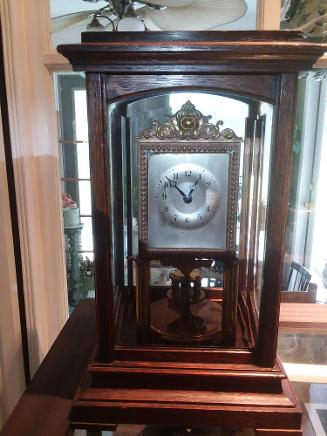 GERMAN ONE YEAR RUNING DURATION CLOCK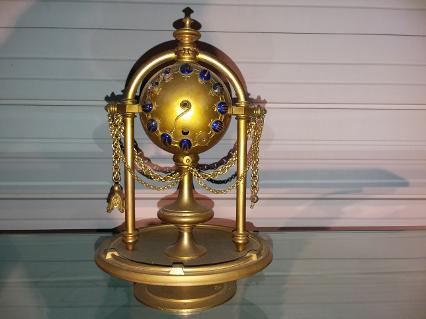 AN EARLY GILD METAL SPHERICAL CLOCK WITH SNAKE HAND. NEEDS RESTORATION. MOVEMENT IN WORKING CONDITION.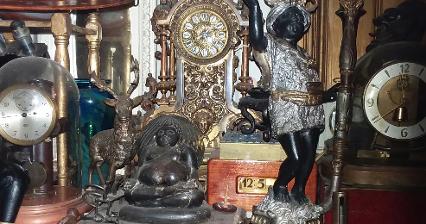 © Copyright ROCKINGHAM ANTIQUES LIMITED JRJ @ www.rockinghamantiques.com (941) 320-9125