FURNITURE
TABLES, CHAIRS, DESKS, BOXES, MIRRORS, DRESSERS, ETC.
TABLES
CHAIRS
DESKS
DRESSERS
TREEN
TEA CADDIES AND BOXES
ORNAMENTAL FIXTURES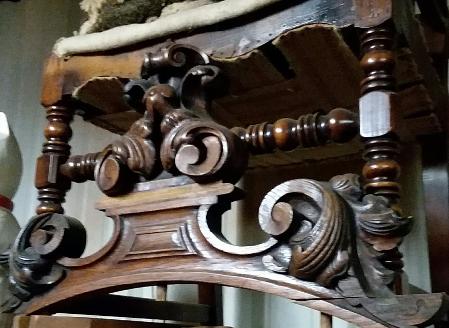 Many chairs in stock,all kinds to choose from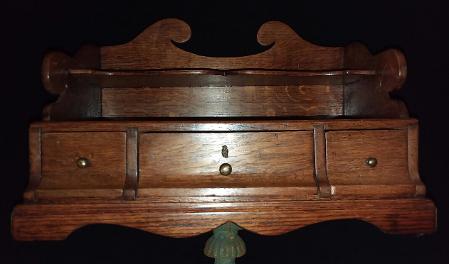 DRESSER BOX QUARTER SAWN OAK $ 225.00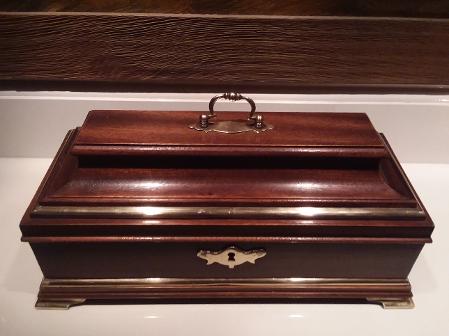 MAHOGANY WITH BRASS WOOD BOX $275.00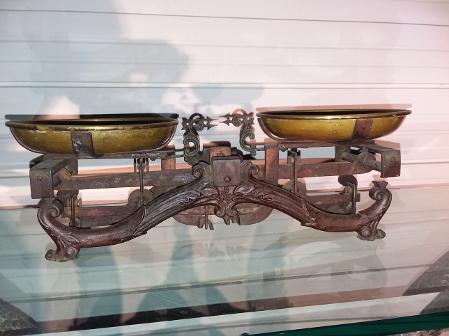 VINTAGE IRON AND BRASS SCALE
$375.
ROUNDED TOP DISPLAY CABINET
ONE OF A KIND ALL HIGH GLOSS AUTOMOTIVE FINISH, DOUBLE DOME TOP DISPLAY CASE WITH LIGHTING, AND BEVELED GLASS DOORS, AND PANELS. THE KEY ESCUTCHEONS ARE CUSTOM MADE FROM STERLING SILVER, AND THE PIG SHAPED KNOBS ARE CUSTOM MADE FROM HAWAII. THIS SPECIAL CABINET WAS SPECIALLY CRAFTED FOR MY WIFE LINDA, AFTER SHE WAS SO DISAPPOINTED BY MISSING OUT ON A CABINET WITH THE SAME SHAPE AT A YARD SALE.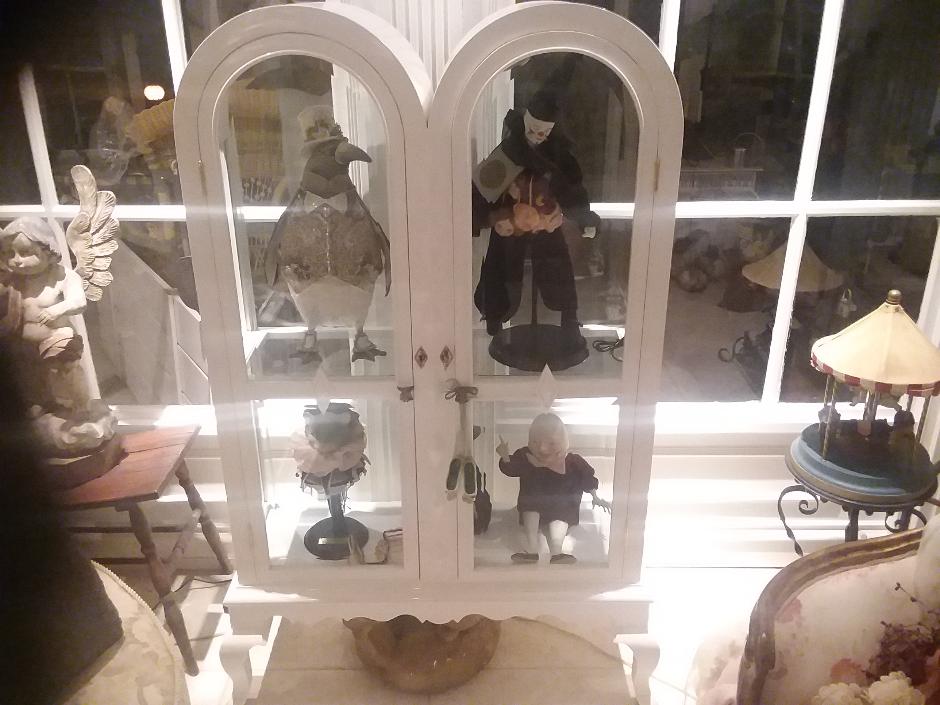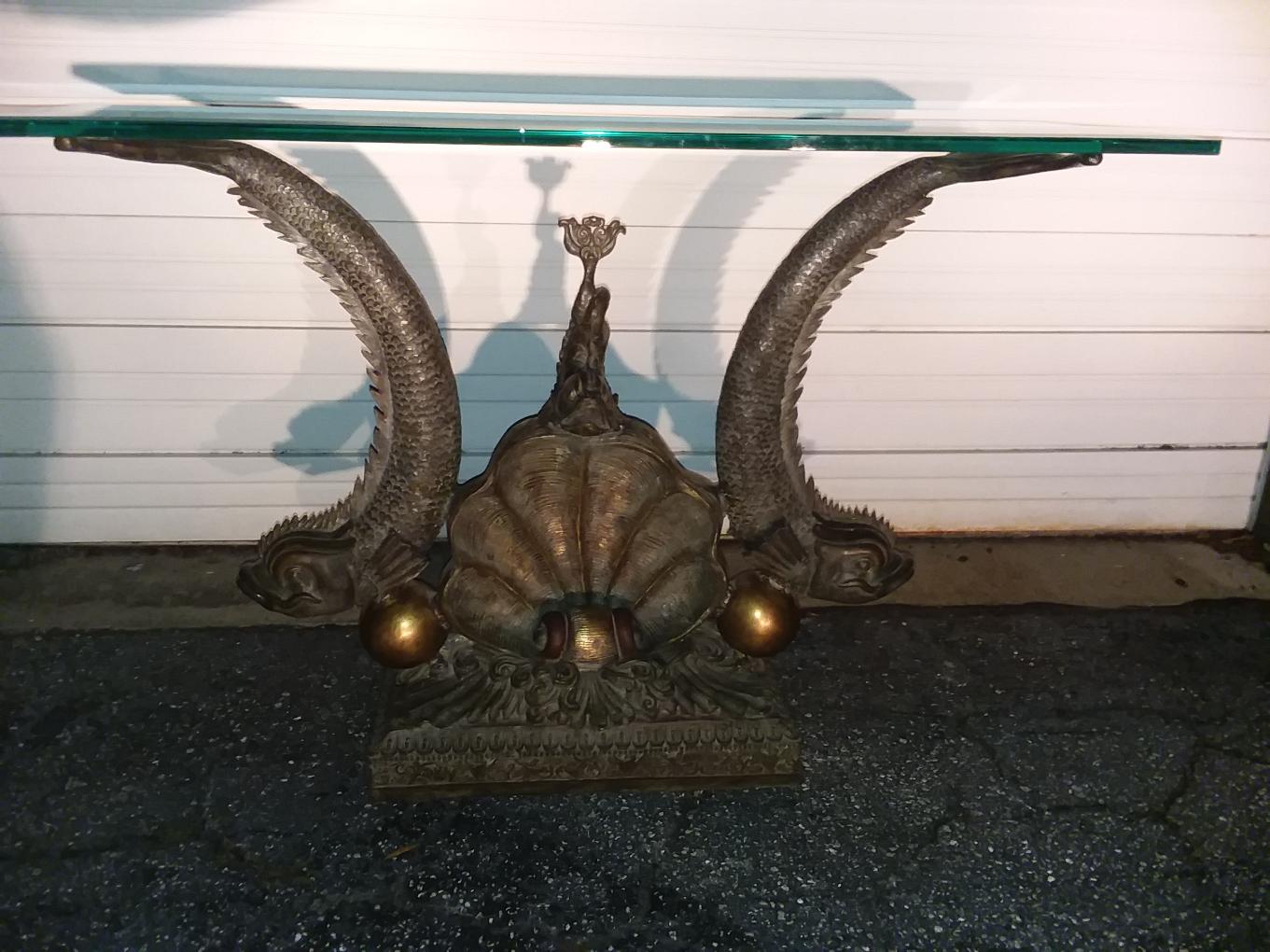 A HEAVY CAST BRONZE CONSOLE TABLE WITH GLASS BEVELED TOP. FROM THE DECO PERIOD AROUND 1920'S. TWO FLANKING DOLPHINS AROUND A LARGE SHELL AND TWO GILDED BRONZE SPHERES. A SMALL FISH CENTERED OVER THE TIP OF THE SHELL WITH DECORATIVE TAIL.
$ 12,5O0.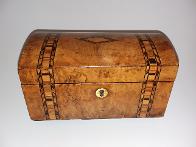 TEA CADDIE 19TH CENTURY $ 225.00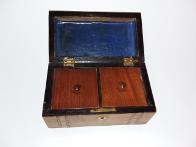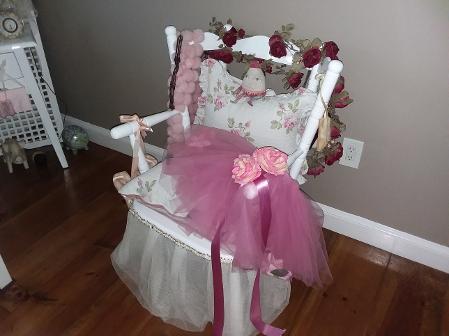 PAINTED CHAIR WITH DECORATIVE ITEMS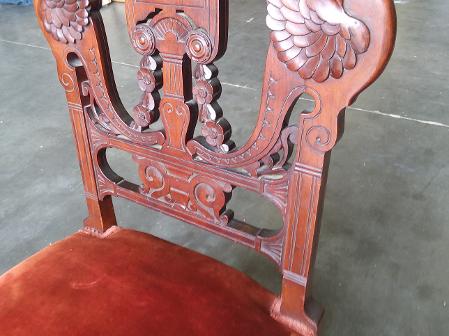 A ROSEWOOD CARVED SWAN CHAIR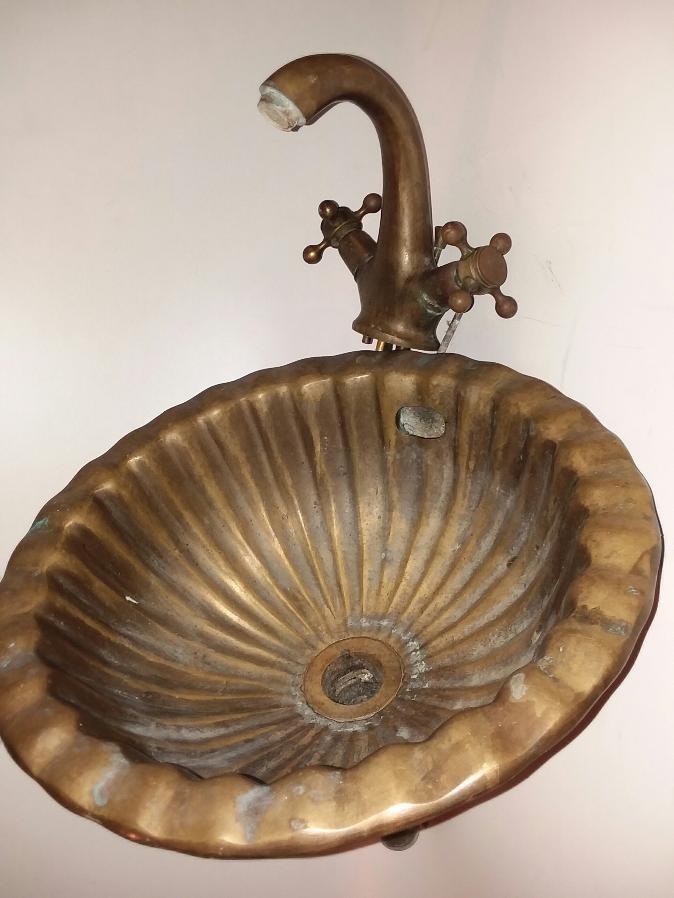 A EARLY 1900'S BRONZE SINK VESSEL, WITH HOT COLD BRONZE T - HANDLE SHUTOFFS. AGE AND WEAR IS WONDERFULLY PRESENT WITH THIS RARE EXAMPLE. VERY HARD TO FIND A SINK LIKE THIS ONE. PERFECT FOR A POWDER ROOM, GUEST BATH, OR POOL BATH. THE SINK WILL NEED A LIGHT WIPING WITH OIL TO ACCENT OILED BRONZE LOOK.
$ 2,500. NOTE: THIS IS A VERY HEAVY ITEM
( APROX. 45 LBS.)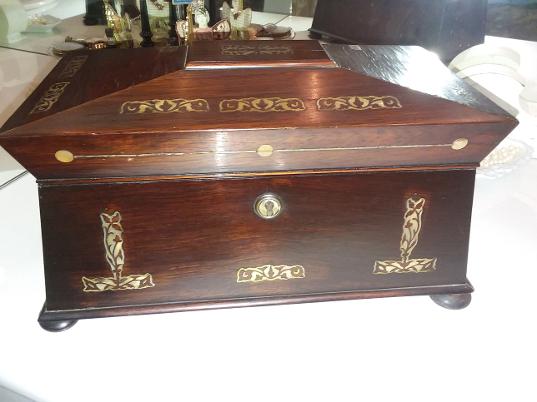 A ROSEWOOD AND MOTHER OF PEARL TEA CADDIEOF ARSOFAGAS FORM WITH RAISED PANEL LID, THE INTERIOR CONTAINING TWO COMPARTMENTS. $ 750.00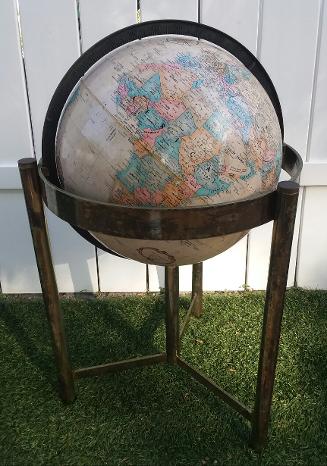 A MID CENTURY GLOBE WITH HEAVY BRASS STAND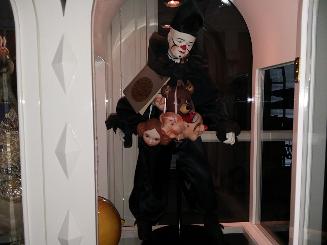 PORCELAIN THESPIAN DOLL HANDCRAFTED IN TAIWAN EXCLUSIVELY FOR BALOS c1984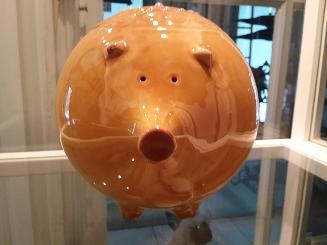 A RARE WONDERFUL MID CENTURY YELLOW GLAZE STONEWARE PIG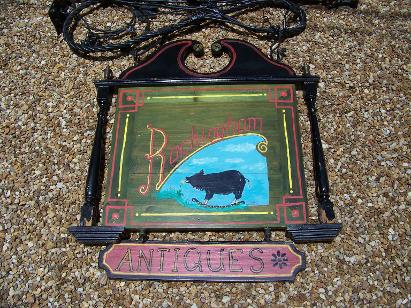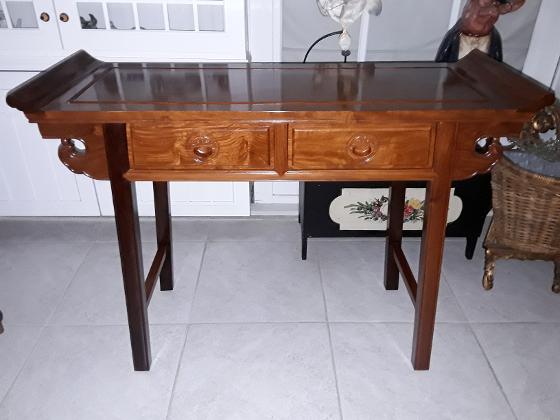 A CHINESE ELMWOOD CONSOLETABLE WITH TWO DRAWERS EXCELLENT CONDITION, NO DAMAGE $ 1,600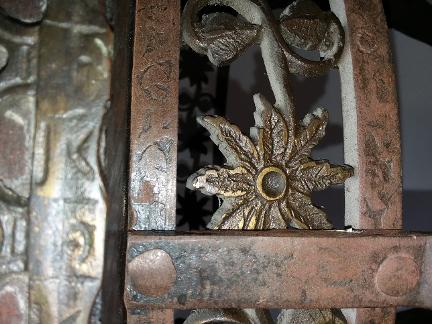 Section of a hand forged iron on a bronze table
17 th Century French $3,400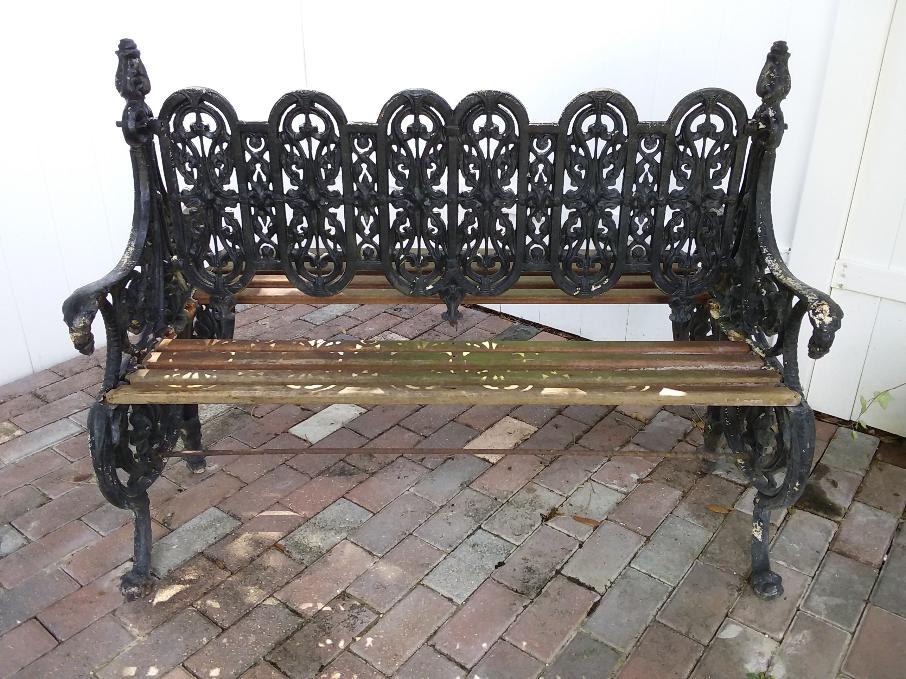 VICTORIAN, IRON, HEAVY CAST BENCH WITH MAHOGANY WOOD SLATS AT SEAT $ 2,850.00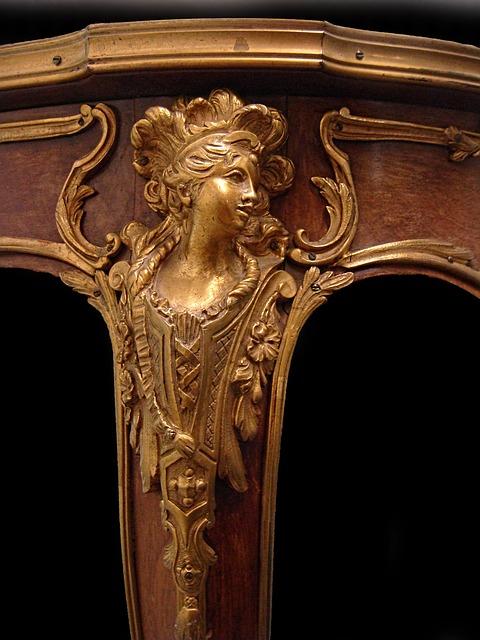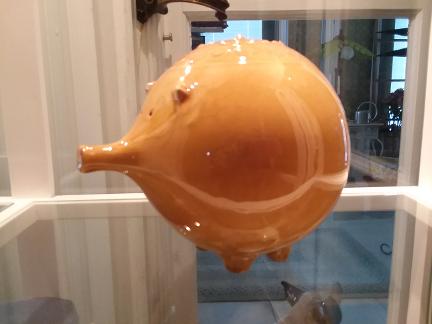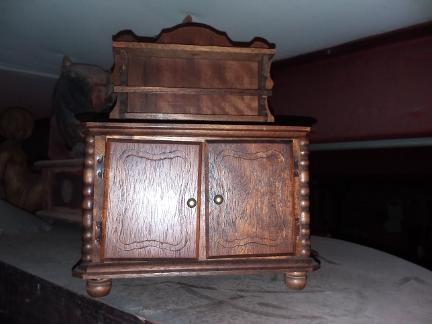 © Copyright ROCKINGHAM ANTIQUES @ www.rockinghamantiques.com